Last week was both
midnightxpress's birthday, and the second anniversary of my
tubewhore project, so to mark this propitious occasion on the 8th of the 8th, I took the birthday boy for tea at the Mandeville. I chose this as somewhere new to try in our ongoing investigations into Fancy Tea in Posh London Hotels and because they did a Men's Tea for the 'heteropolitan'. Hmmm...

It does seem that manly = meaty. Not so clever as my companion was a vegetarian, but as I had the Ladies Fashion Tea, which erred on the side of pink, we could swap our gendered sandwiches. I had his skewered chicken and steak, and he made free with my egg mayonnaise and cucumber.

His: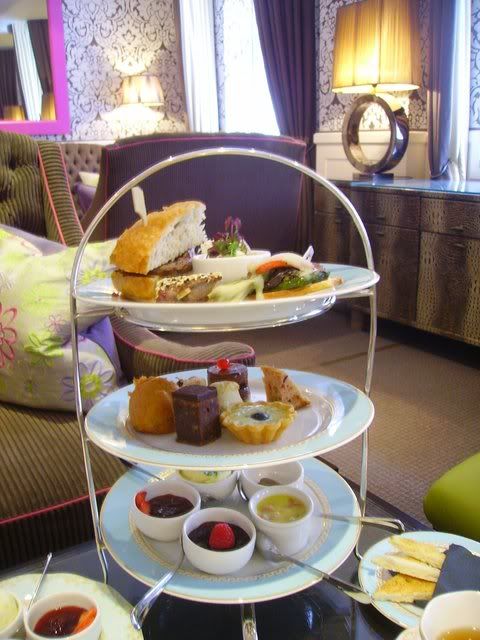 and hers:




Food was lovely - the meat was beautifully tender and flavoursome, and I scoffed all those delicious little potted shrimp. The scones were a bit of an odd shape, being amusing little towers of scone, but they still disappeared all very quickly, and the pastries were delightfully - a feast for the eyes as well as was as the palate.

I adore the Zandra Rhodes pretty china, and the modern, funky interior was very chic. All a bit Rat Pack retro-futurism/ Elle Decoration urban cool...

How cute as these! Not too cute to eat, mind you...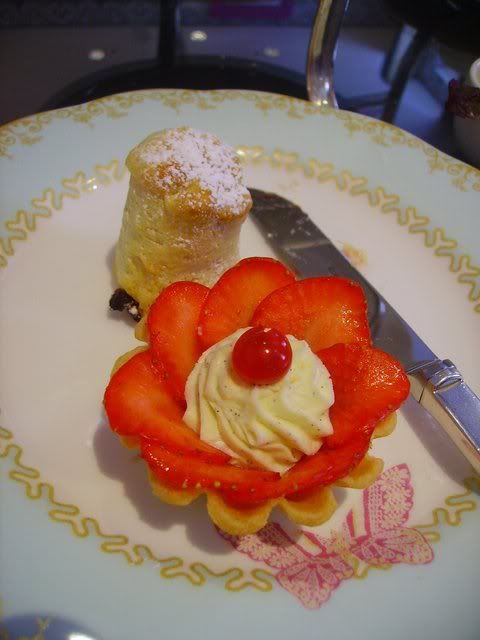 So a very relaxed gossipy two hours were spent gently grazing our way through the plate tiers of food, which is what I need as not very well at the moment. The service was very good; friendly and attentive from a real human being. Oddly we weren't offered milk for our tea, so I decided to go with the flow and just take it black, and very nice it was too.




My only tiny gripe is that the price as advertised on the website is not what I paid. I didn't check the bill really, just handed over the plastic, but unless service is a very high percentage I was slapped for nearly a tenner more than I was expecting, and I'm not sure what the extra was. However, that aside, I still think we had our monies worth, and certainly within the usual prie range