I'm horribly late posting reviews - I have three teas to write up, so bear with me cluttering your flists with fingers with picspam of finger sandwiches, fine china and teaspoons.

First up: back in the first week of July, myself,
gothichaven and
artnouveauho decided to celebrate
gothichaven's birthday a little early with tea at the Athenaeum. I was in town for a conference, and this was about te only free day of the whole week. It was also the hottest day of the year - whixh is not so great for wilting goths struggling across London in corsets and with luggage.

I've been to the Athenaeum before with
midnightxpress, and had enjoyed it immensely, so was looking forward to revisiting with added girly gossip. I booked through afternoontea.co.uk, and decided on the Summer Flowers Tea, which promised all manner of flower-based treats and prettiness. Sadly, I can't remember what the flowery frills were supposed to be, and the menu has now changed, but anyway, they weren't much in evidence. I think we were barely aware of the flower aspect of the meal. That's not to say that the food wasn't lovely, and plentiful, but the added extra floral element didn't stand out .

Their current 'special' is a Pink Afternoon tea, which does look rather splendid, and rather more obvious!

We had the usual array of afternoon tea courses - rather fine finger sandwiches, of which they kept bringing more until we'd had our fill. Then we moved onto warm scones with a choice of jams and thick, clotted cream. As though we weren't stuffed enough, there were then pastries from the trolley to chose from. And just when we'd though we were done, the waitress reminded us that there was still crumpets or tea cakes! This last course was the only serious disappointment as they looked distinctly 'bought in' from Manor bakeries, rather than made in the kitchen. Tea itself was selected from an extensive menu, and refreshed as needed.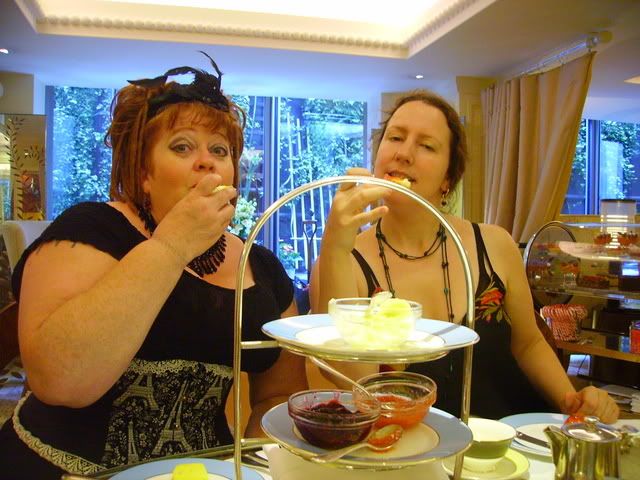 The best bit was having the luxury of time with friends. This is the most valuable element to me of afternoon tea - it's supposed to be a leisurely affair - at least two hours of sipping tea and being delighted with a series of delicious and inviting morsels to chose from. This aspect was certainly fulfilled, and I would go back, but possibly after I've explored some more of the places recommended on the afternoon tea website.

I do fancy that pink tea though!

Pretty china and delicate little meringues: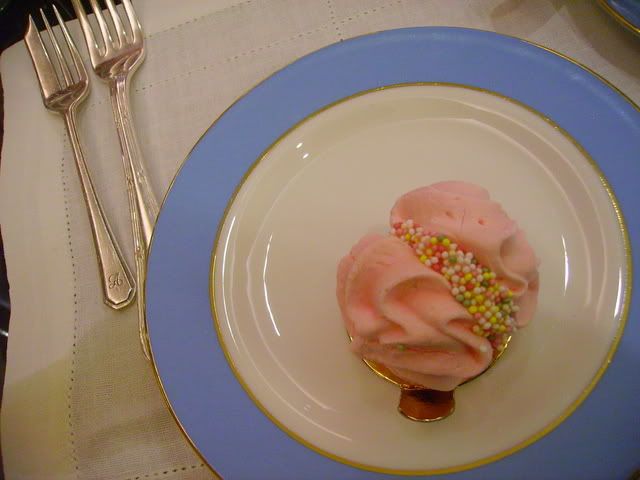 Liza communes with her pastry. Check out the pastry trolley behind her!




I had to loosen my laces, and G had to do with out her corset altogether - oh the scandal! - after such a tempting spread. We followed up the over-eating with a constitutional stroll as far as the bus stop, before further indulging in the half price sale at Butler & Wilson...a very lovely day indeed...can't wait to do it again.